Minamata Convention
---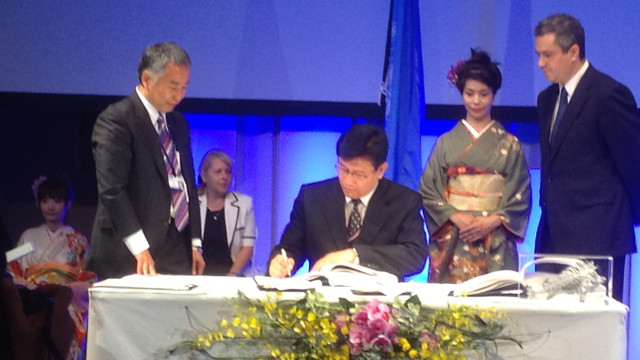 The Minamata Convention on Mercury is a global treaty to protect human health and the environment from the adverse effects of mercury pollution, including a ban on new mercury mines, the phase-out of existing ones, control measures on air emissions, and the international regulation of the informal sector for artisanal and small-scale gold mining.

The convention is named after Minamata Bay, which was contaminated by methyl mercury discharged from a local chemical factory. The disaster, which affected thousands of human lives was the first large-scale incident of methyl mercury poisoning. Minamata drew the world's attention to the devastating effects of mercury, a powerful neurotoxicant now known to be particularly dangerous to unborn babies, infants, and young children.  

The text of the Minamata Convention on Mercury was adopted by the Conference of Plenipotentiaries on 10 October 2013 in Kumamoto, Japan. 
Focal Office:

Date Ratified:

Signed on October 10, 2013
Ongoing ratification

Focal Persons:

Technical


       MS. JACQUELINE A. CAANCAN       

Assistant Director and OIC - Office of the Director

       DENR - Environmental Management Bureau

       Tel. Nos. - (632) 928 3725 / 927 1517

       MR. GERI-GERONIMO R. SAÑEZ        Chief


       Hazardous Waste Management Section

       DENR - Environmental Management Bureau

       Tel. No. - (632) 928 1212

Commitments:

Under the provisions of the Minamata Convention, Governments (Parties) have agreed on a range of mercury-containing products whose production, import, and export will be banned by 2020.  These items include:
            *Batteries, except for "button cell" batteries used in implantable medical devices
            *Switches and relays
            *Some compact fluorescent lamps
            *Mercury in cold cathode flourescent and external electrode flourescent lamps.
            *Soaps and Cosmetics (mercury is used in skin-whitening products)
            *Some mercury-containing medical items such as thermometers and blood pressure devices

Pinpointing populations at risk, boosting medical care and better training of health-care professionals in identifying and treating mercury-related effects will all result from adherence to the obligations on the new treaty.

Policy Issuances:

DENR Admistrative Order 1997-38 - CCO for Mercury and Mercury Compounds
Joint DENR-DOH Administrative Order 2005-02 - Policies and Guidelines on Effective and Proper Handling, Collection, Transport, Treatment, Storage, and Disposal of Health Care Wastes
DENR AO 2013-22 - Revised Procedures and Standards for the Management of Hazardous Wastes
Republic Act 8749 - Philippine Clean Air Act of 1999
DENR Administrative Order 2000-81 - Implementing Rules and Regulations for RA 8749
Republic Act 9003 - Ecological Solid Waste Management Act of 2000
DENR Administrative Order 2001-34 - Implementing Rules and Regulations of Republic Act 9003
Republic Act 9275 - Philippine Clean Water Act of 2004
DENR Administrative Order 2005-10 - Implementing Rules and Regulations for RA 9275
DENR Administrative Order 1990-34 - Revised Water Usage and Classification
DENR Administrative Order 1990-35 - Revised Effluent Regulations of 1990
Republic Act 7076: People's Small-Scale Mining Act of 1991
DENR Administrative Order 2015-03 - Revised  Implementing Rules and Regulations of RA 7076
DENR Administrative Order 1997-30 - Small-Scale Mine Safety Rules and Regulations
http://119.92.161.2/embgovph/chemical/LawsandPolicies.aspx

Sources / Relevant Links:

Status:

Updates

The Philippines is currently undergoing the process of ratification for the Convention. To date, a ratification dossier was prepared by the Environmental Management Bureau, with the assistance of UNITAR and the Swiss confederation.

The Ratification Dossier provides the overview of the current state of the Philippines on mercury pollution (including existing laws and policies for control and regulation) and the socio-economic and environmental impacts of the convention. It also includes initial national action plans and strategies for compliance with the Convention. On its final draft, the last step for the dossier is the concurrence of several Departments affected by the commitment: Department of Trade and Industry (DTI), Department of Energy (DOE), and the Occupational Health and Safety Center of the Department of Labor and Employment (OHSC-DOLE).
This Page was updated on 30 October 2017 and will be updated on 30 January 2018
You are here:  

Minamata Convention